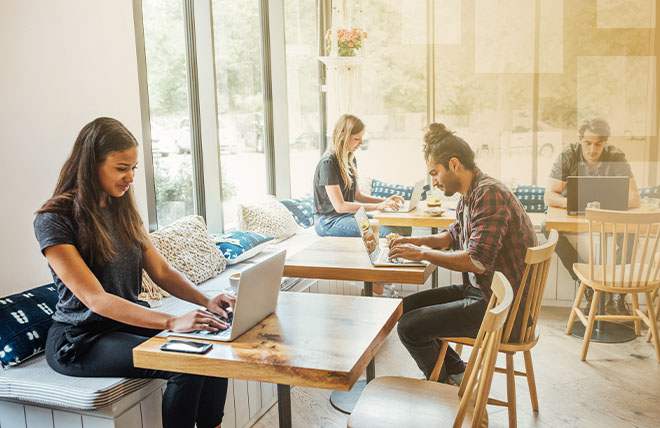 Debit Card Fraud Tips
Enjoy the convenience of your debit card while staying safe.
Let's work together to take the right precautions
We use debit cards everywhere we go, and not everyone has good intentions. So it's important to be aware when making purchases online, in-store and elsewhere.
Decrease your chances of online fraud
Use Card Control within your Envision Credit Union app and Online Banking to manage your card and even freeze it.
Regularly monitor your account for suspicious activity. Set a daily reminder to check your account.
Avoid a public Wi-Fi, and use a secure and private Internet server when shopping online.
Stick to reputable websites. A web address that includes "https" is a good indicator it is legitimate.
Apps make everything easy, but be sure to download it from a trusted source such as the Apple App Store or Android Market.
Use a pop-up blocker to avoid spam advertisements.
When in doubt, contact us. We'll help ensure your accounts are safe and secure.
Remember:
Update your contact information with us so we can help you solve the matter swiftly in the event you experience fraud.
Contact us immediately to report a suspicious or fraudulent charge.
We will never ask for your Personal Identification Number (PIN), CVV code (three digits on the back of your debit card), or your complete Social Security Number.
To report a lost or stolen Debit Card:
During business hours: 850-942-9000
After business hours: 844-596-1821
Visa® Member Dispute and Fraud Instructions: 866-331-6223
Want more control of the debit cards on your account?
Download CardValet®! It's a free app available for your smartphone that gives you all of the control you need to make sure your card is safe and secure.
Lost or misplaced your card? Just turn the card off in the CardValet® app and turn it back on when it's back in your possession.
Want to restrict where your card can work? All you have to do is change the preferences on the card to allow or block transactions at ATMs, online merchants or even by geographical location.
Do you like alerts? Then you'll love CardValet®'s alert system. You have the control to set alerts that will notify you on your phone, or smart watch, when your card has been authorized for a transactions in real time.
With the CardValet® app, you'll have peace of mind knowing you can quickly control your debit card anytime, anywhere. Download CardValet® for your iPhone or Android.
If you have identified fraud or you are disputing a merchant charge, contact the Chargeback Member Services Team to file your claim. You will receive applicable paperwork and be informed of any required transaction documentation. The Chargeback Member Services Team also will credit your Envision account, if applicable. It is important to heed the deadlines for returning forms and documentation; otherwise, your case could be dismissed and the credit to your account could be reversed.
Envision Credit Union is a full-service financial institution with branches in Florida and Georgia.
Lost or Stolen Card
Here to help whether your card was lost or you're worried about fraudulent charges
Learn More

: Lost or Stolen Card Page
* Please note if your case involves the fraudulent use of your card number by an unknown party, or you have been the victim of skimming activity, please file a police report with your local law enforcement agency. Often an escalation in debit or credit card fraud, reported to the applicable agencies, is the only way for law enforcement officials to become aware of the activity so that they can then take steps to apprehend the perpetrators.
Resources to help you
find what you're looking for.