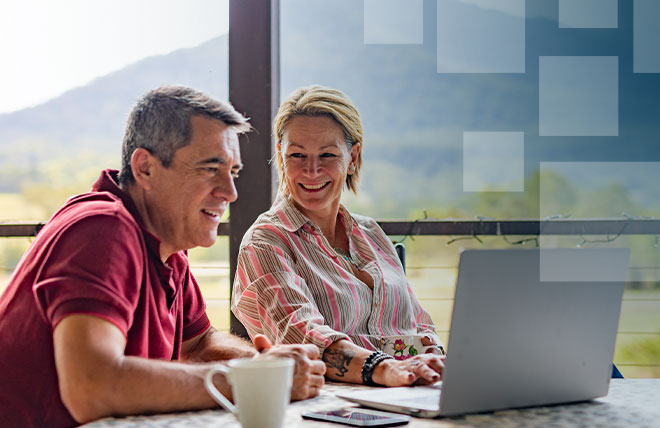 MoneyWi$e Financial Tips for Adults
Some good financial advice can go a long way
Some good financial advice can go a long way
At Envision Credit Union, we believe that financial education is the key to creating a more secure and prosperous financial future. That's why we take great pride in offering our members MoneyWise, a comprehensive selection of free financial education resources. MoneyWise is designed to help our members gain a better understanding of their finances, set and achieve their financial goals, and take greater control of their money.
MoneyWise is like having your own online financial library that you can access at any time. Topics are displayed in playlists so just choose a playlist based on your personal needs. We believe that everyone should have the opportunity to make informed decisions about their money, and MoneyWise is our way of helping our members do just that.
Some of our playlist examples include:
Financial Foundations: Understand the basics of some key financial concepts.
Building Financial Capability: Understand how to better manage your money and avoid some common financial dangers.
Investing in Your Future: From paying for college to developing saving strategies, learn how to be more financially prepared in the years ahead.
Owning a Home: Explore the benefits and costs of buying and owning a home.
Preparing for Retirement: Learn what, when, why, and how you should prepare for an eventual retirement
Start exploring!

Need a little extra enticement? All new MoneyWi$e users will be eligible to win $100 Visa gift cards. Just log in and complete a playlist to be automatically entered into one of our drawings. See official rules below.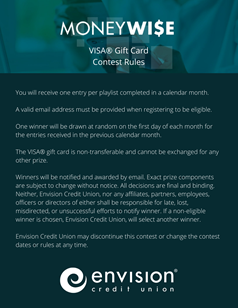 Experiencing a financial set back?
Our team of certified financial counselors can help. Email us at [email protected] to request a one-on-one financial counseling session at no cost to you.
Envision Credit Union is a full-service financial institution with branches in Florida and Georgia.
Home Equity Line of Credit
Use your home's value to finance your next big purchase
Learn More

: Home Equity Line of Credit Page
Resources to help you
find what you're looking for.