We're doing our part to support local charities and nonprofits
In August 2017, we embarked on a partnership with Rose City Federal Credit Union, headquartered in Thomasville, Georgia. Rose City FCU has a long history of quality member service and a strong commitment to their community.
At Envision Credit Union, we are proud to support local charities and organizations. The Rose City Foundation, birthed from our merger with Rose City FCU, offers further support in and around the communities served by Rose City FCU. With a multi-year commitment from Envision Credit Union, this foundation is designed to build stronger communities in South Georgia through volunteer and sponsorship opportunities. These efforts reinforce our belief that we all benefit from strong communities.
Rose City Foundation has been an excellent extension of Envision Credit Union's community outreach. While we've traditionally supported educational programs and events, the Rose City Foundation gives us a way to support nonprofits and other organizations outside the educational realm.
Meet the Board of Directors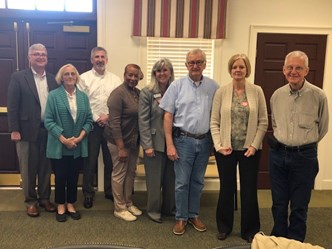 Pictured from left to right:
Dusty Kornegay - Vice President
Barbara Brinson - Board Member
Zach Wheeler - Board Member
Rosemarye Boykins - Board Member
Lee Bryant - Vice President, Georgia Market
Ron Carney - Board Member
Lawana Jackson - Secretary
Grant Plymel - President
Envision Credit Union is a full-service financial institution with branches in Florida and Georgia.
Resources to help you
find what you're looking for.