Benefit from our partnerships in all sorts of ways
1st Members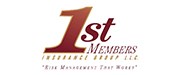 A good financial plan includes the right protection. Take a look at customized solutions from 1st Members Insurance Group, LLC. They'll help you with home or auto insurance along with other ways to make your money work harder for you. Founded in 2005, 1st Members has been proud to help members save for retirement, insure their valuable purchases, and make preparations for every stage of life.

Merchant Management Group

Get the right payment processing solutions for your small or medium-size business through Mechant Management Group. Take advantage of competitive low rates on reliable and efficient systems that each quick, secure processing of every transaction. With their unsurpassed customer service, they make sure their customers are up and running to receive payments.

Travelers

You could qualify for low, competitive auto insurance rates from Travelers of Florida through their special program offered to Envision Credit Union members.

Equifax

Customers have trusted Equifax for over 100 years to deliver innovative solutions with the highest integrity and reliability. Businesses — large and small — rely on us for consumer and business credit intelligence, portfolio management, fraud detection, decisioning technology, marketing tools, and much more. We empower individual consumers to manage their personal credit information, protect their identity, and maximize their financial well-being. Click here to learn more.

Allied Solutions

Protect your vehicle from mechanical breakdowns and total loss. Mechanical Breakdown Protection provides protection against mechanical breakdowns beyond your existing manufacturer's warranty. Guaranteed Asset Protection covers the deficiency balance on your loan in the event of a total loss. Learn more about what Allied Solutions can offer you.

TurboTax

e-File for free with TurboTax Online, and get your tax refund in as few as eight days. Go to TurboTax now to learn more.

Seven Hills

Seven Hills Financial, LLC is a Registered Investment Advisor with investment services that include mutual funds, annuities, investment planning, D.R.O.P. and 401(k) rollovers.

Florida Education License Plate

Help fuel more opportunities in public education by purchasing a Florida Education License Plate. Your support goes directly to public schools in your county.

BALANCE Fraud Protection

Safeguard your accounts and identity conveniently and at a discounted price. Learn more or enroll now in our Fraud Protection Extras Program.
Envision Credit Union is a full-service financial institution with branches in Florida and Georgia.
Resources to help you
find what you're looking for.