Not all technology is worth using. That is just a fact. I have never believed in using technology just for technology's sake. Technology is not an instructional method. It's a tool to enhance instructional practices we already use.
Like all tools, some are more useful than others. I love when another teacher recommends technology tools to me because those have already been vetted by that teacher. We don't recommend tools to each other that we don't think are valuable. With that being said, I wanted to share some tools on the blog that I think have valuable application.
Quizlet is an online learning tool that allows you to create digital flashcards that can be studied from the website or using an app. I had heard about this app from students and decided to try it this past summer as I was studying for my own finals in graduate school. The experience of using it myself to learn material made me realize how valuable this could be especially in my Advanced Placement classes where vocabulary retention is critical. So far it's been a success! I've seen an improvement in vocabulary fluency amongst my students and while it's still a little early to tell I think the overall content retention is going to be improved.
Here are some of my favorite features.
Accessibility
Once the study set is added to a student's account or class the Quizlet App allows students to practice vocabulary terms without being connected to a Wi-Fi network or using data. The convenience factor of being able to use the digital flashcards on a device that we already have with us was what originally drew me to the platform.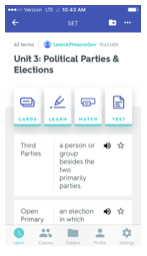 Tracking Function
The Quizlet Teacher subscription allows me to track student activity in two ways that I have found beneficial.
First, it allows me to see which of the tools the students have utilized and the last time they were active with the site. I've found this helpful when counseling with students about study practices and assessment grades.

Second, is the class progress tab which shows me the class average of correct responses for each term. It ranks the words from the most to least missed by students. This function has allowed me to focus class time on clarifying words where there is confusion instead of doing broader review.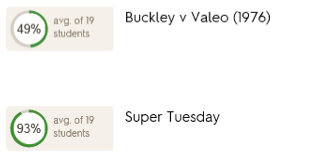 Testing Tool
While the Quizlet app is not designed to be used for assessment, it does allow you to create and then print assessments that can be used in class. This has allowed me to easily randomize quizzes between class sections.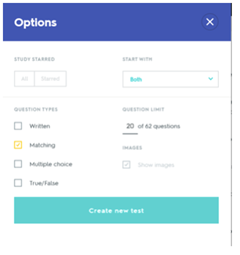 Quizlet Live
Quizlet Live is a review game that students can play in class by entering a code on their phones. It groups students and focuses on accuracy over speed to win. I tried it with one of my classes and found it required very little effort to set up and the students were engaged and excited during the game.
Cost:
Basic (Free): The basic version of Quizlet does not include student tracking but will allow you to create and publish study sets for students to use.
Quizlet Teacher ($34.99 per year): Quizlet teacher will allow you to track class and student use data. I was able to get my year subscription during a sale period for $15 and you can receive 20% off a membership by being referred by another teacher who already has a membership.
Drawbacks: Quizlet does require your students to be at least 13 or have parent permission to sign up. It also doesn't allow me to see how long student are spending studying which I would be useful when analyzing student performance.
OVERALL: I would recommend this tool for teachers of particularly vocabulary driven course or courses where there is a fair amount of memorization required. My students are spending more time with the vocabulary terms and their improved fluency is measurable. For me, the Quizlet Teacher subscription has been worth it for access to the student data and the ease of creating vocabulary quizzes.