Your money, your way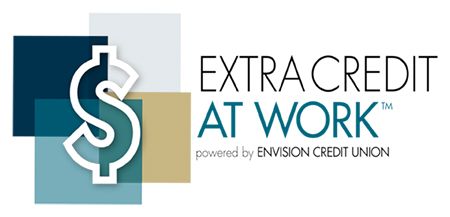 Extra Credit at Work offers quick and easy access to cash for use however you want. Because this loan is offered as an employee benefit, your employer will automatically deduct your payment from your paycheck for convenient, out-of-sight, out-of-mind processing each month.
No credit check required
Payday loan alternative
$500 - $5,000 loans available
Convenient repayment through your employer's payroll deduction



Avoid the outrageous rates of payday lenders
Do you have too much month and not enough money? We've done our homework with our Extra Credit at Work loan. Avoid the outrageous rates of payday lenders and save money by getting the extra credit you've worked so hard to earn. Offering loans from $500 to $5,000*, Extra Credit at Work is designed to help you make it to your next payday, help you with an unexpected emergency, refinance your higher interest debt, or whatever you need it for! We understand that everyone needs help sometimes, and we're here to lend a hand.

To qualify for an Extra Credit at Work loan you must:
Be an employee with a participating employer for at least 6 months.**
Be 18 years old or older.
It's that simple!

How it works
No need to visit a financial center location to apply. Simply complete our easy 3-step online application. Once you apply, we will verify that you qualify based on the criteria above. An account specialist will then determine your available loan amount based on your monthly salary and connect with you within 48 business hours after application to complete your loan. Monthly payment amounts are based on loan amount, term, and first payment due date.